Fourth article of a series from an autumn 2018 visit and tastings in Piedmont.
Few Italian estates have as storied a history as Marchesi di Barolo. In 1807, the French noblewoman Juliette Colbert de Maulévrier married the Marchese of Barolo Carlo Tancredi Falletti in Paris. Arriving at her new home, Juliette applied her French wine palate to Falletti's nebbiolo grapes, creating Marchesi di Barolo wine. Juliette died in 1864 without any heirs, leaving the estate to the Opera Pia Barolo, a charity the childless couple founded three years earlier in Turin.
In 1929, Pietro Abbona, a local winemaker, purchased the winery and vineyards from the Opera Pia Barolo. Today fifth-generation Ernesto Abbona and his wife Anna run the estate with the assistance of their adult children Valentina and Davide. The estate encompasses 430 acres of UNESCO-recognized vineyards and holdings in the Cannubi, Sarmassa and Coste di Rose crus.
Anna Abbona
It was in the 1980s that I first visited Marchesi di Barolo's memorable cellar with wines dating to the 19th century. I've returned three or four times, and have enjoyed tastings in the New York region with Anna, the whirlwind force and ebullient persona of the winery. Today Valentina, who inherited her mother's light-up-the-room smile and vibrant personality, is assuming more of the traveling and presentation of the Marchesi di Barolo wines. (see: https://thewineodyssey.com/italy/marchesi-di-barolo-has-its-season/
The 2014 Marchesi di Barolo Barolo DOCG was the product of a rainy, cloudy summer followed by a dry, sunny September and October. Made from purchased grapes from vineyards managed by Marchesi di Barolo, the ripe fruit created a wine with red-fruit and floral aromas and very tasty raspberry and cranberry flavors that's immediately drinkable. 89 points. Retail is $43 to $60.
The name of 2013 Marchesi di Barolo di Barolo is not a repetitive error; it awkwardly represents that the wine is a blend of grapes from six vineyards owned by the winery in the Barolo municipality. Each vineyard, or cru, is vinified and aged separately, then selected and blended by winemaker Flavio Fenocchio. The 2013 communal Barolo cuvee is black-cherry-colored with enticing raisin, raspberry and cherry aromas and rich flavors. Refined tannins woven through the fruit create an elegant texture and a long, pleasing finish. 92 points. Expect to pay about $80 to $100.
The Coste de Rose vineyard wine is in the communal blend as well as in the 2013 Marchesi di Barolo Coste de Rose Barolo, a single-vineyard bottling. Its red-fruit aroma and flavor has plum, cherry and cranberry character with herbal accents. A line of minerality from the limestone, quartzite and calcaire soil runs behind the fruit flavors, giving the wine structure and length. 91 points. Expect to pay about $80.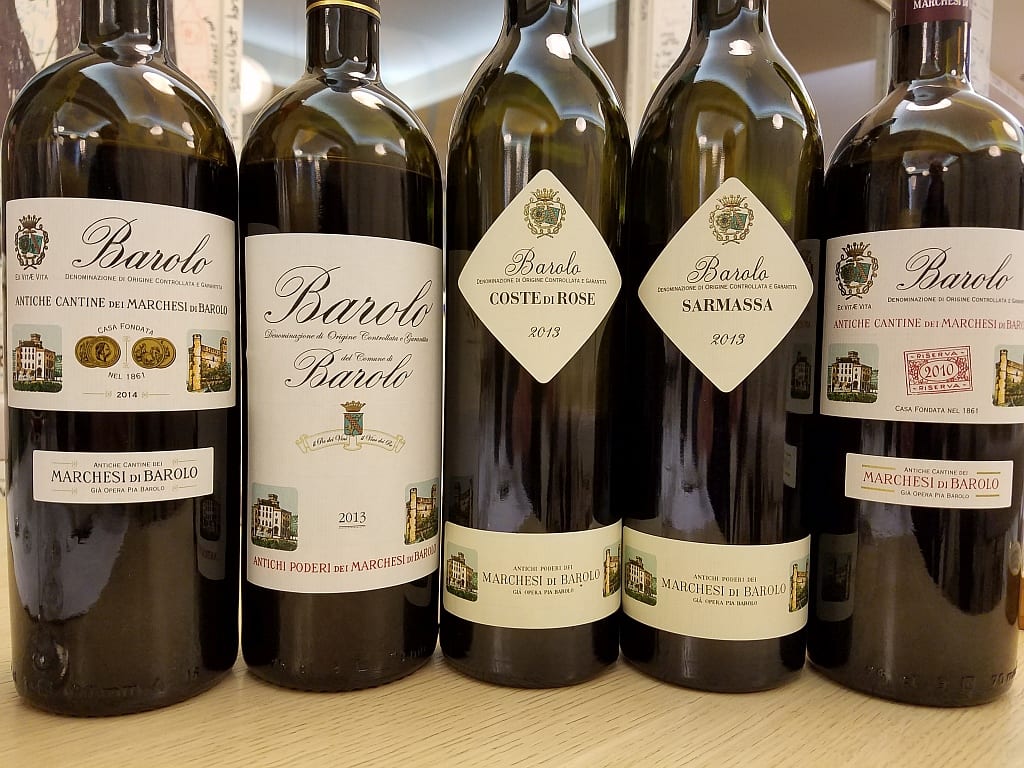 Barolo producers envy the Burgundy vineyard classification system, and if they could establish one, Sarmassa would be a grand cru. The 2013 Marchesi di Barolo Sarmassa offers black tea, herbal and black-cherry aromas, followed by very flavorful black-cherry, raspberry-like fruit. Sarmassa's stony soil adds a gravelly undernote and structure to this well-made wine. 92 points. Expect to pay from $81 to $105.
While Barbaresco and Barolo are pure nebbiolo-made wines, Barbaresco is a little softer and rounder—somewhat like the difference of Chambolle-Musigny and Morey-Saint-Denis to the wines of Gevrey-Chambertin and Vosne-Romanee. This is captured in the elegant 2013 Marchesi di Barolo Barbaresco with its fragrant and delicious spicy, raspberry aroma and flavor laced with integrated tannins. It's irresistible. 95 points. It's $38 to $48 retail price tag has its appeal, too.
After tasting the newest vintages in our market, I turned to the ethereal 2010 Marchesi di Barolo Riserva DOCG. Aged for four years in botti—large Slavonian oak barrels holding thousands of gallons of wine—these neutral vessels allowed the nebbiolo to slowly refine its tannins, creating an enchanting floral and red-berry aroma with delicious raspberry and cherry-flavored fruit. 93 points. Expect to pay from$110 to $135.
The long, pleasing finish of the 2010 Marchesi di Barolo Riserva allowed for a moment of reflection on Juliette Colbert's understanding that her husband's nebbiolo could be as elegant as Burgundy's pinot noir, and legendary, too.
Photos by John Foy