The Best
Some of Bordeaux's best 2015s were displayed in January at the Union des Grand Crus tasting, with those from the Right Bank chateaus in St. Emilion and Pomerol prevailing.
St. Emilion:
Ch. Beau-Sejour Becot: Owned by the Becot family and now under the direction of 40-year-old Juliette Becot. Merlot occupies nearly three-quarters of the vineyard, with cabernet franc standing second. Cabernet sauvignon is limited to six percent.
The wine is opaque red, and scented with black fruit, toasted oak and black tea. Ripe blackberry flavor is laced with a vanilla-oak taste that glides on plush tannins. The intensity of the wine is balanced by the mineral backbone from the limestone soil that the vine roots call home. One of the best wines in the tasting and always one of the most reasonably priced of the Premier Grand Cru Classes chateaus. 95 points.  $67 to $90—great value for this level. Best Buy.
Ch. Canon-La-Gaffeliere: Purchased by German Count Joseph Hubert von Neipperg in 1971, this recently promoted 1er Grand Cru Classe winery is owned by his son Stephan von Neipperg.
As diligent as he is dapper, von Neipperg's meticulous work elevated not only Canon-La-Gaffeliere in 2012, but also one of his other St. Emilion estates, La Mondotte, to 1er Grand Cru Classe status. He converted both to certified organic properties.
I had Canon-La-Gaffeliere on my former restaurant wine lists, and have collected it since the 1990s. I thought that it was equal—and often better—than seven of the Premier Grand Cru Classe chateaus during that period (Beau-Sejour Becot, Beausejour Duffau-Lagarrosse, Canon, Trotte Vieille, La Gaffeliere, Magdelaine and Belair).
If you want to discover why, pour a glass of this floral and red-berry scented wine. You'll taste elegant and lively red plum and blackberry-flavored fruit that is deep without being heavy. You'll know the wine was aged in new oak barrels, but you won't have the overwhelming and slick vanilla accent of it. You'll feel tannins supporting the fruit, not attacking your mouth. The flavors will linger and please your palate. You'll wish you had another bottle in your cellar. 95 points. $75 to $116. Less than $89 represents good value in this classification. 
Clos Fourtet: Another winery that occupies my cellar with vintages from the 1990s and 2000s. Planted with 83% merlot, 9% cabernet franc and 8% cabernet sauvignon and owned by the Cuvelier family, who also own Chateau Poujeaux, which is one of the best values in Bordeaux.
Matthieu Cuvelier's two high-profile consultants—Jean Claude Berrouet (who recently retired as the winemaker at Chateau Petrus) and Stephane Derenoncourt—produced a remarkable wine.
Its opaque red color, with bold blackberry, black licorice and vanilla-oak aromas are surprising for a wine influenced by Berrouet—this is more Derenoncourt's style. The ripe black-fruit flavor, vanilla coating and opulent and elegant tannins would be too New World-ish for me if it were not for the stony minerality that I discovered was a hallmark of the 2015 Premier Grand Cru Classe wines. 95 points.  $97 to $160.
Ch. La Gaffeliere: Owned by the Malet-Roquefort family since the 17th century, La Gaffeliere maintained its 1er Grand Cru Classe ranking even though it was making inferior wine for most of the last quarter of the 20th century. Derenoncourt is the consultant and the vineyards are planted with 75% merlot and 25% cabernet franc. An extensive replanting program has been going on since 2000.
Featuring a black cherry hue, this wine's aromas and flavors are delightful: black cherry, red plum and blackberry aromas and flavors. Unlike some of the other wines, slick oak aroma or taste is not part of the mix. With more varied soil in its vineyards, the minerality is less and the fruit presence is more. 94 points. $69 to $82.
Ch. Pavie-Macquin: In 2012, this chateau was promoted to 1er Grand Cru Classe. (The promotion also occurred in 2006, but that year's reevaluation was nullified after demoted chateaus took the issue to court. That's another article in itself.)
Derenoncourt and Nicolas Thienpont have been the wine consultants to Pavie-Macquin since 1990 and 1994, respectively. They have created a very modern—one would not be off base to say New World—style at Pavie-Macquin. The 2015 is a demonstration of that with its opaque red color, pronounced black-fruit and black-olive aromas and flavors wrapped in new oak and tied to a full body. Its tannic backbone will give it a long life, but for the present, it needs a few years of cellaring to calm down and round out. 94 points. $74 to $113.
Pomerol:
Ch. La Pointe: Raised to a high level in 2015 with its magnetic fruit aroma and delicious, rich blackberry and red-plum flavors. Integrated tannins provide a silky texture and structure for this well-made wine. 93 points. $35-$55. Best buy.
Ch. Beauregard:  Black cherry and black tea aromas and flavors are an enticing combination and round tannins deliver it with a pleasing and lengthy finish. 92 points. $50-$64. Good value.
Ch. Rouget: Perhaps my most surprising sample in the tasting was this dark, black-cherry-colored wine featuring toasted-oak and black-fruit scents. Owned by Edouard Labruyere (whose family also owns Burgundy's prestigious Domaine Jacques Prieur, and estates in Champagne and Beaujolais' Moulin-à-Vent), Rouget is not a widely known chateau in America. But its ripe, blackberry flavor and supporting tannins will please many palates and broaden its name. 92 points. $50-$66. Good value.
On the Left Bank, I thought the best wines were produced in St. Julien and Margaux. 
St. Julien:
Ch. Saint-Pierre: If you are not familiar with the wines of this chateau, it is one that will reward your exploration. Fragrant black fruit with a peppery accent, good body and delicious blackberry-like fruit with density and structure make this an excellent wine. 95 points. $65-$70.
Ch. Lagrange: I've collected this chateau for decades as it produces elegant wines no matter the challenges of a vintage. Its 2015 delivers a black cherry, floral and vanilla nose, tasty black-cherry and blueberry-fruit flavors with perfectly integrated tannins. Classic Lagrange. 93 points. $45-$55. Best Buy.
Ch. Leoville-Poyferre: Dark fruit hue and a strong smoky, toasted-oak scent has been the style of the estate since the mid-1990s. As a collector of Poyferre since the 1980s, the change in style was not one I applauded. It has a bigger body and fuller mouthfeel than the other Saint-Juliens in this tasting, and carries blackberry and black-plum flavors through the finish. 92 points. $77-$125.
Ch. Gloria: Another chateau from this appellation whose vintages dating to 1989 occupies my cellar. The 2015 has the red-fruit and floral accent that appears in other wines from this appellation and vintage. Its round tannins and mild minerality match the fruit, giving it a pleasing finish and immediacy. 90 points. $40-$62. Good value.
Margaux:
Ch. Brane-Cantenac: Dark black-cherry color, toasted oak, red-fruit and black-pepper aromas grabbed my attention. And its rich, blackberry taste, supporting tannins and excellent balance held it through a perfect finish. 95 points. $63-$95.
Ch. Giscours: Brilliant crimson hue, black cherry, floral smoky vanilla-oak perfume is delightful. Very flavorful red fruit with excellent balance and length. Very well made. 94 points. $60-$90.
Ch. Marquis de Terme: The dark, black-cherry color, smoky, toasted-oak aroma and flavor, and the full mouthfeel are pushing this wine towards the New World, but its black-cherry flavor and gravelly underbelly keep it anchored in Bordeaux. A traditional Margaux, it's not. 92 points.  $42-$55. Best buy.
Ch.Rauzan-Segla: Brings an appealing flora and cherry scent with blackberry-flavored fruit carried on a medium body with a pleasing finish. A little earthy background brings an extra dash of complexity. 92 points. $85-$160.
Ch. du Tertre: Its black-cherry color is more translucent than others, and it's more red-berry-perfumed and-flavored. Soft tannins keep it balanced and its tasty springtime-like cherry flavor glides to a pleasant finish. 91 points. $39-$50. Good value.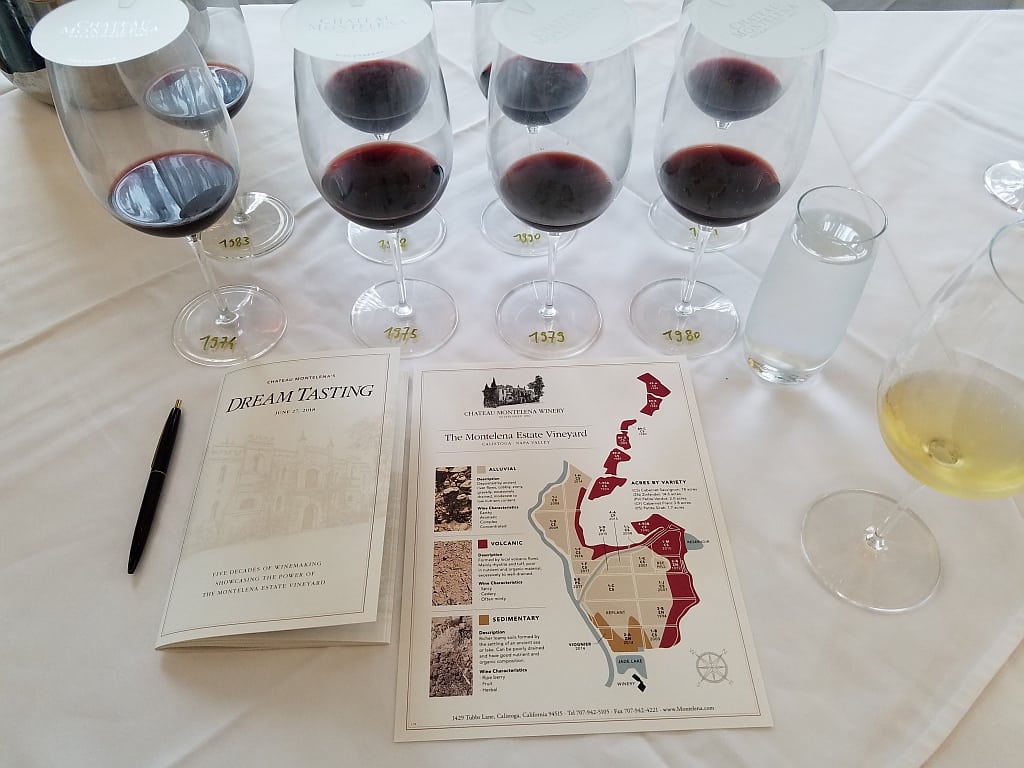 The Brightest
From Napa Valley's iconic Zinfandel producer, Ravenswood, you'll want to pay attention to the single-vineyard zinfandels. The 21-acre Dickenson plot on Zinfandel Lane—10 of which are planted with the namesake variety—boasts four acres of Prohibition-era vines,the oldest planted on the lane. Ravenswood has used Dickerson grapes since the 1980s.
The refined and elegant 2016 Ravenswood Dickenson Vineyard Zinfandel comes from the warmest of Ravenswood's single-vineyards, yielding ripe grapes with soft tannins, and receiving the least amount of new-oak-barrel aging (20% to 25%).The 2016 zinfandel has a medium body with raspberry, cherry and a touch of cinnamon and eucalyptus-like spiciness in the nose and flavor. It ignited an aromatic and taste memory of some Cote d'Or red burgundies and classic barbarescos. 93 points. Just arriving in the market at about $42.
At a 40-year retrospective tasting of Chateau Montelena Estate Cabernet Sauvignon presented by owner and winemaker Bo Barrett, the 2013 Chateau Montelena Estate Cabernet Sauvignon was a shining star.
The 2013 vintage in Napa Valley is the middle of a trio of warm, ripe, richly flavored wines. Its black-cherry and toasted-oak scents rise from the glass and bountiful blackberry fruit merges with dark chocolate and marjoram flavors. Supported by plush tannins and minerality, this wine will have decades of life. 95 points. Retail prices range from $119 to $169.
The spring sunshine was radiant during my Burgundy visit in 2018. Among the many delicious wines from the outstanding 2015 vintage was the brilliant medium-bodied 2015 Domaine Arnoux Corton-Rognet Grand Cru.  
Its deep, rich black-cherry-flavored fruit featured a peppery note and mineral backbone from the gravelly limestone and marl vineyard. Nowhere to be found was oak influence from the 20% new barrels that winemaker and owner Pascal Arnoux used. He melded the wood into this perfectly balanced wine that will give pleasure for many years. 94 points. Retail is about $110.
Perhaps, the most surprising wine of the entire year was the glistening 2017 Clos du Val Pinot Noir Rose' Carneros Napa Valley. Its gossamer-pink hue and texture belies the exquisite tangerine aroma, watermelon and orange flavors. Delightful minerality and acidity deliver balance and freshness. I cannot recall a better California rose. 95 points. About $30 direct from the winery.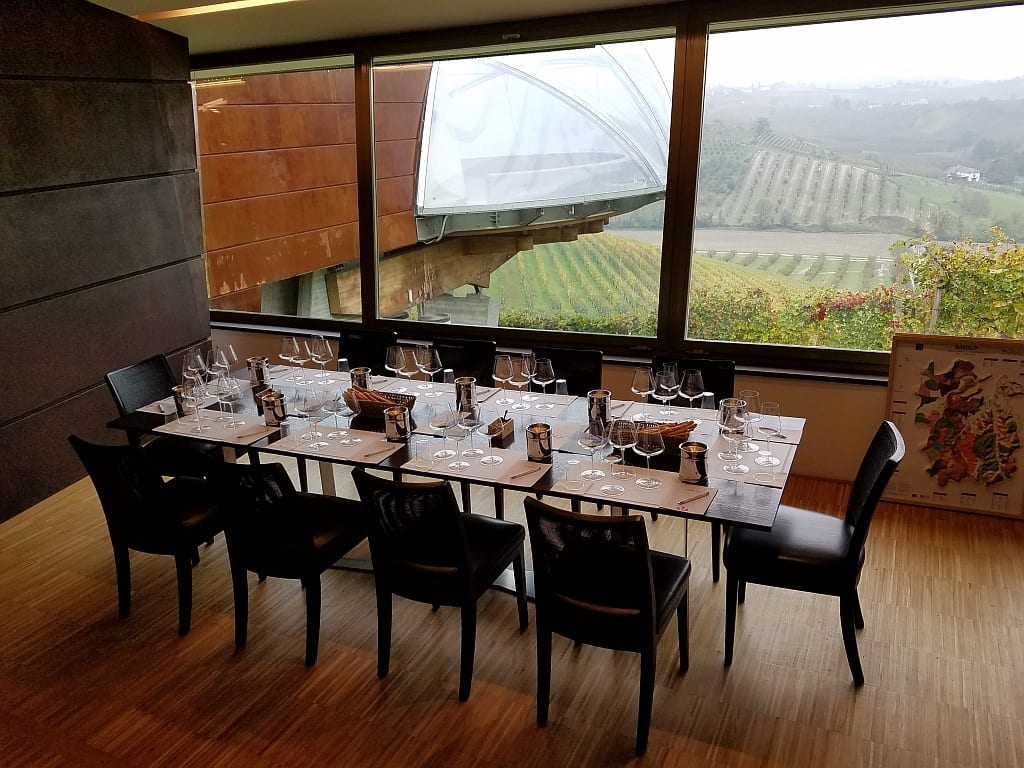 Bodacious is the melding of the words bold and audacious and also describes the Ceretto family's artistic architecture in its Piedmont vineyards and wineries (see: https://thewineodyssey.com/italy/ceretto-is-stylish-at-every-turn-part-one/).
The wines are equally impressive, especially Ceretto's Bricco Asili cru ("bricco" in Piedmontese dialect means a parcel at the top of the vineyard) sits on a bed of clay and limestone. Having collected Bricco Asili wines since the mid-1990s, I recognized the gravelly, mineral backbone of the 2015 Ceretto Bricco Asili Barbaresco as the ingredient that gives the long life for which Asili is prized. Its tannins and minerality take time to soften and meld with the fruit, but your patience will be rewarded with a wine whose ethereal-like character—a mix of strawberry, cherry, anise and tobacco aromas and flavors—is always seductive. 95 points. Expected to arrive in spring 2019 and cost about $140 to $160.
Next week begins the surprises, delights and discoveries of the wine world in 2019!
Photos by John Foy