It was the beginning of 2005 when I last saw Aurelio Montes. He was standing in front of his new winery in Apalta, Chile, smiling and waving goodbye to me. I was sitting in a cart attached to a tractor pulling me up Vina Montes' steep hillside syrah vineyard. As I looked over the tractor's hood, I saw the vineyard was at the top of a mountain with a 45-degree angle. I didn't know if his wave was a gesture of friendship, or bidding me farewell on my final act.
Turning around to wave to Aurelio, I had a full vision of the new winery. Created by Chilean architects, landscapers, and designers, its mystical Feng-Shui philosophy incorporates the metaphysics of wind and water.
Built into the hillside, the wood structure is framed by Japanese trees and surrounded by a small lagoon running under a wooden footbridge leading to its entrance. As you step into the winery, a large wood-carved angel holds your attention, and a fountain lies at its center under a lily-shaped skylight representing the sun and moon, and connecting the building to the outside universe. In the aging cellar, the wines spend their days and nights listening to Gregorian chants on the room's never-ending sound system.
In February, Aurelio was at Manhattan's Beekman Hotel with his 42-year-old son, also named Aurelio, but designated "Junior." The two winemakers presented their respective wines: Aurelio's Vina Montes wines and Junior's Argentine Kaiken winery bottlings.
Aurelio Montes and his son Aurelio, Junior
In 1987, Aurelio, married and with five children to support, found himself jobless. His employment at Vina San Pedro ended with the winery's sale, but the transaction helped realize a personal dream.
Fellow Chilean Douglas Murray was Vina San Pedro's executive director–a former head of the wine division of a Spanish bank for 14 years–, who understood international wine marketing. The two formed a partnership and in 1988 added Chileans Alfredo Vidaurre (finance) and Pedro Grand (viticulturist). They called their new enterprise Discovery Wines. Although the name lasted only a short time, in its own way, it was prophetic.
The wine world soon discovered the new Vina Montes wines. Back then, Chilean wines were made by large cooperatives and wineries interested in quantity. Aurelio and his partners wanted consumers to understand that their country could produce world-class wine, and Vina Montes would do it.
Taking California as a model, the partners began with varietal wines at reasonable prices under the Montes Alpha label. The endeavor was an immediate hit and a wake-up call to other Chilean wineries.
We began our tasting with the 2014 Montes Alpha Chardonnay grown in Chile's cool climate Aconcagua coastal region. Aurelio ferments the juice in equal parts in French oak barrels (both new and used) and stainless-steel tanks. Its golden hue and mild vanilla aroma come from the barrel aging. The tropical fruit aromas and flavors of pineapple, guava and lime are markers of Chile's cool climate chardonnay. While the aromas and flavors were pleasing, the alcohol was too noticeable. 87 points. Retail prices range from $16 to $24.
Cabernet sauvignon was Aurelio's first wine under the Montes Alpha label. Today it is grown in the lower part of Montes' vineyard in the Apalta district of the Colchagua Valley and comprises 90 percent of the 2014 Montes Alpha Cabernet Sauvignon; the other 10 percent is merlot. It has an opaque black-cherry color, pungent black-fruit, and, oregano and bay leaf aromas. Very tasty blackberry, tobacco and coffee flavors mingled with tannins; its gravelly, dry finish completed the profile that recalled wines from Bordeaux's Fronsac appellation. 89 points. Retail prices range from $18 to $24.
The 2014 Montes Alpha Malbec is composed of 95 percent malbec from its Marchigue and Apalta estates, and five percent cabernet sauvignon from Apalta.
After peering at the opaque blackberry color, a wave of smoky, toasted oak and blackberry aromas came from my swirling glass. But like a phantom, the smokiness was nowhere to be found in the tasty blackberry and plum flavors lined with soft tannins. 88 points. Not yet in our market, but will be priced in the cabernet sauvignon range.
In 2005, my tractor took me to the syrah planted in the highest plot, then, Aurelio climbed higher. Now playing king on the mountain are carignan and grenache planted in 2008, and mourvedre planted a few years earlier. These Rhone varietal vines pushed their roots deep into the granite soil of the terraced vineyard 650 feet above the valley.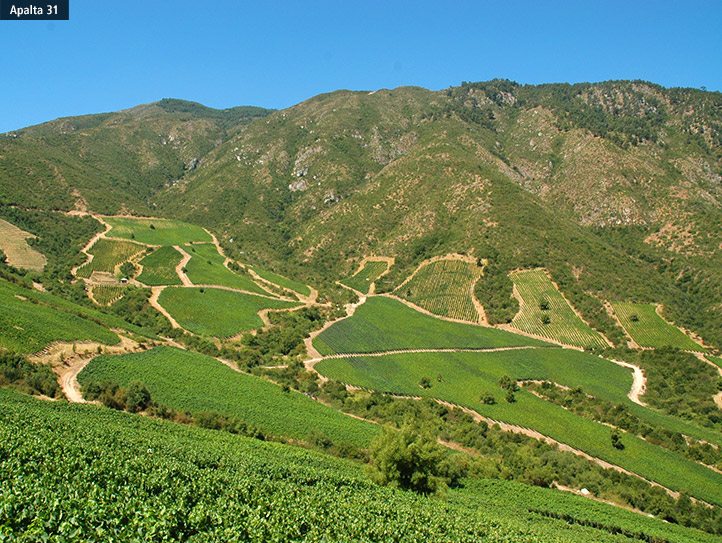 Montes Apalta Vineyard, courtesy of Vina Montes
After pushing the boundaries of what is possible, Aurelio named his new Rhone-styled blend "Outer Limits." The 2015 Montes Outer Limits CGM assembles 50 percent carignan, 30 percent grenache and 20 percent mourvedre into an elegantly blackberry and black olive scented wine. A full, round mouth feel of luscious black-plum, blackberry and grilled red-meat flavors are carried on plush tannins. 90 points. Not yet in our market; expect to pay from $20 to $25.
Montes created the "ultra-premium" Chilean wine category with its Alpha M wine. It stars cabernet sauvignon with cameo roles to cabernet franc, merlot and petit verdot. The 2012 Montes Alpha M is 80 percent cabernet sauvignon with the other three grapes dividing the balance.
A complex and compelling black pepper and black-fruit scent leads to rich black-cherry, black-tea and cedar flavors. Its soft texture makes the 2012 Alpha M eminently drinkable and its Apalta vineyard mineral backbone gives it aging potential. 90 points. Retail prices range from $68 to $90.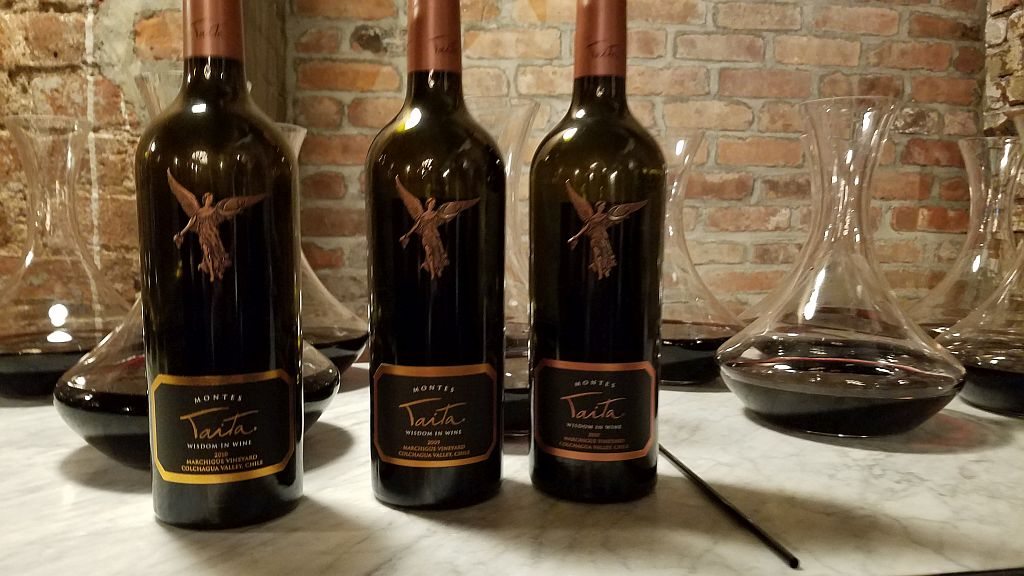 Aurelio created Montes Taita from a small plot of the Marchigue vineyard that he and Pedro Parra–a specialist in soil and the only Chilean to have a PhD from Institut Agronomique National in Paris—discovered. Millions of years ago, a glacier deposited a vast quantity of stones, creating an underground ideal for cabernet sauvignon vines rooting themselves in the decomposing granite and clay.
Aurelio's partner, the aforementioned marketing specialist Douglas Murray baptized the wine Taita, which, in Chile, means a tutor or mentor, a wise person who guides us in life.
The first vintage of Montes Taita was 2007, followed by 2009 and 2010. All have the same recipe of 85 percent cabernet sauvignon from the unique geological plot and 15 percent unidentified grapes. The wine is aged three years in 100 percent new French oak barrels, then four years in the bottle.
All three wines had a black-tea accent in the background of the aroma and flavor, which is a marker of cabernet franc. But what is predominant is the blackberry aroma and taste of the cabernet sauvignon. In the 2007 Montes Taita the toasted oak rides in front of the fruit, then brings up the rear with the gravelly finish, whereas the 2009 Montes Taita is showing off its cabernet sauvignon blackberry personality from beginning to end. Only the ancient stones get a chance to speak at the finish. 89 points and 90 points, respectively.  For me, the 2010 was the most complex with its herbal, blackberry and black tea aromas, followed by blackberry and blueberry (petit verdot's footprint) flavors laced with a toasted oak accent in the stony finish. 91 points.  About 3,000 bottles are made each year and sold at approximately $250 to $300 each. The 2010 is not yet in our market.
It's been 30 years since Aurelio and his partners decided to live their dream. Chile and the wine world are better for it.
Photos by John Foy