this is the third article in a series of the new generation of winemakers in Burgundy. 
Just a short drive—less than 10 minutes from the bustling center of Beaune—are the flatland vineyards of pastoral Chorey-les-Beaune and the unassuming Domaine Michel Gay.
Before its appellation status was created in 1970, Chorey-les-Beaune wines bore the Cote de Beaune-Villages label or were blended into regional Bourgogne Rouge or Blanc bottlings. Sometime in the 1980s, I was introduced to these light- to medium-body, fruit-driven savory wines. In excellent vintages such as 2015 the wines of Chorey represent good value and smart buying.
On a recent trip there, I stood in the cool cellar of Domaine Michel Gay as  winemaker Sebastien Gay explained that the domaine was founded in 1992 after his father Michel, and uncle Francois Gay, split the family estate, with Michel receiving about 13 acres across Chorey-les-Beaune, Savigny-les-Beaune, Beaune, Aloxe-Corton and Corton-Renade. Today the estate has expanded to approximately 37 acres with additional parcels in Beaune premier cru.  Michel's sons Sebastien, 39, and Laurent, 32, are the fifth-generation owners and winemakers.
Laurent (left) and Sebastien Gay (right)
Sebastien said they use organic and biodynamic viticulture and winemaking techniques, but do not intend to seek certification as there are years when the weather requires them to use chemicals to protect the grapes from mold or rot. A mix of used and new oak barrels, lightly toasted, are employed for aging, and the wine is bottled without filtration.
We began our tasting with the 2015 Domaine Michel Gay Chorey-les-Beaune Vieilles Vignes made from six parcels of 40-to 70-year-old pinot noir vines. Aged in 20% percent new oak, it has an eye-catching cherry shade and captivating perfume of red fruit, floral, clove and cinnamon. Its medium body offers delicious raspberry and strawberry flavors and a long, complex, attention grabbing finish. There is much to like in this Chorey. 90 points.  Retail will be about $35.
The 2015 Domaine Michel Gay Savigny-les-Beaune Les Serpentieres Premier Cru offers an elegant raspberry, cherry and black pepper nose. Aged in 35% new oak, it delivers vanilla flavor to the ripe raspberry taste wrapped around a medium body and elegant texture. Like the Chorey, this wine has a long cinnamon-accented finish. 91 points. Retail will be about $59.  
Les Coucherias is a vineyard on the southern slope of a former quarry. Its angle provides a warm, sunny exposure yielding ripe, flavorful grapes. The 2015 Domaine Michel Gay Beaune Les Coucherias Premier Cru has the bright cherry color of the prior wines, and displays its origin with lively aromas of raspberry, cherry, clove and vanilla, on top of rich, luscious fruit flavors. This fruit-driven premier cru recalled some Oregon pinot noirs. 92 points. Retail will be about $63.
In 1999, Michel Gay bought its Beaune Greve premier cru vineyard, which faces southeast and is cooler than Les Coucherias. The 2015 Michel Gay Beaune Greve Premier Cru has a bright red fruit aroma with cherry and strawberry flavors. Its stream of tannins brings greater complexity. 93 points.  Retail will be about $63.
Sebastien and Laurent blended the wines from their three Aloxe-Corton parcels of 60-year-old vines in the 2015 Domaine Michel Gay Aloxe-Corton Vieille Vignes. Aged in 40% new oak, the black-cherry and vanilla scents are pleasing, and the black-cherry flavor mouth-filling. Once more, the style has a similarity to Oregon pinots. 92 points. Retail will be about $59.
The domaine owns a half acre plot in the grand cru Corton-Renade vineyard with vines dating to 1946 and 1956, respectively. Its 2015 Corton-Renade has a garnet hue, and aromas of black-pepper, raspberry and black-cherry. Its medium body carries mouth-filling, ripe black-cherry and vanilla flavors with noticeable minerality and tannin support. The long, deep-flavored finish was magnetic. 93 points.  Retail will be about $145.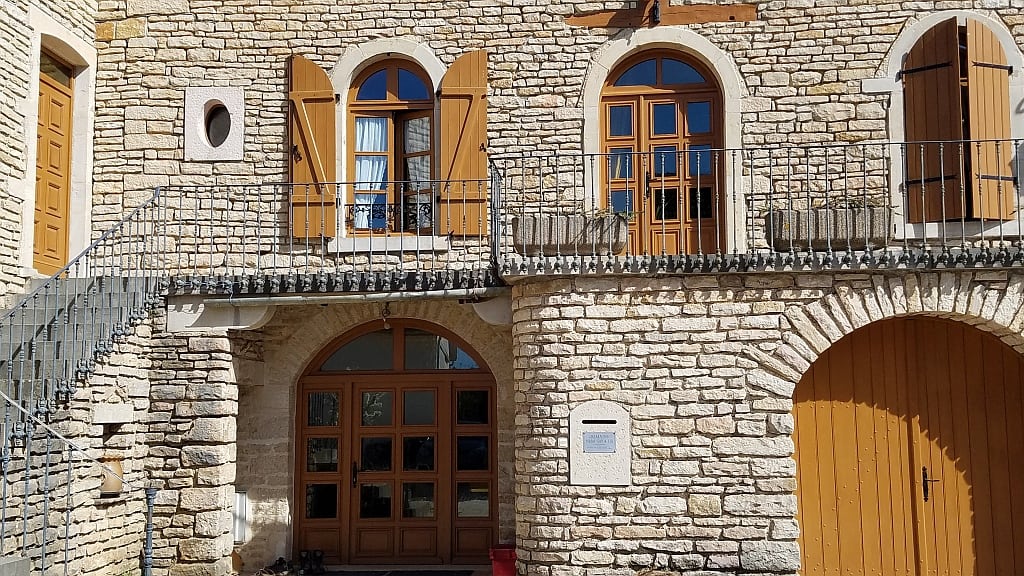 Domaine Michel Gay in Chorey-les-Beaune.
While Domaine Michel Gay is only 26 years old, Sebastien and Lauent Gay are bringing passion and youthful energy to their winemaking and viticulture. Like most family-owned and operated wineries, finding their wines requires some time searching the web, or inquiring at retailers who, like you, seek quality-minded producers. I assure you, it is worth the effort. The wines are expected to arrive in September.
DNS in San Francisco is the national importer for Domaine Michel Gay. It has distributors in numerous states: http://dnswines.com/distributors/
Photos by John Foy